Vodafone Village
PLACE OF CONSTRUCTION:
Milan
YEAR:
2012
PROJECT MASTER:
Ediltecno Restauri
ARCHITECTS:
P.R.P. (Arch. Rolando Gantes & Roberto Morisi)
Realization of the façade panels in TX white concrete with photocatalytic properties. The façade is ventilated and composed of inter-floor element, both flat and curved, sometimes with slits and in specific areas also with the characteristic of two-sidedness elements. The work is completed by special pieces of cladding and urban furnishing artifacts.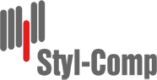 Styl-Comp S.p.A.
Via Stezzano 16
24050 Zanica (BG) Italy
P +39 035 671 013
F +39 035 672 265
infostylcomp@styl-comp.it