Swiss Life
PLACE OF CONSTRUCTION:
Locarno (Switzerland)
YEAR:
2014
PROJECT MASTER:
Impresa Garzoni SA
ARCHITECTS:
Buzzi & Buzzi
Ventilated façades realization with elements with angular section for vertical and horizontal pilasters. Support and anchoring system made of Inox stell with millimeter adjustments along the three Cartesians axes. "L" elements have a variable inclination of the opening angle of the symmetry both in relation to the vertical and horizontal part of the façade, thus modulating the geometry of the shadows and the volumetric view of the building.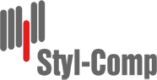 Styl-Comp S.p.A.
Via Stezzano 16
24050 Zanica (BG) Italy
P +39 035 671 013
F +39 035 672 265
infostylcomp@styl-comp.it