Italian Pavilion – Expo 2015
Italian Pavilion – Expo 2015
PLACE OF CONSTRUCTION:
Rho (Milan)
YEAR:
2015
PROJECT MASTER:
Expo 2015
ARCHITECTS:
Studio Nemesi & Partners
Unique work to represent the productive excellence of the Italy system for the Universal Exposition of 2015 held in Milan. In order to highlight the structural shapes of the building, inspired by a "urban forest", the architect designed the branched texture of the external cladding. The textures, original and with complex geometry, evokes the casual intertwining of the branches that chase each other on the façade interweaving at various levels and orientations. All the external surface of Palazzo Italia, made of "i.active BIODYNAMIC mix" with TX Active principle, is composed by more than 900 panels all different, fully designed and manufactured from the molds to the artifact, from the connections to the assembly systems by Styl-Comp Group.
It's a project characterized by the complete customization of formworks and panels with 3D unique geometries in variable size and section, on several levels, both double-sided and mono, with double curvature and organic plastic shake and 3D curvilinear joints.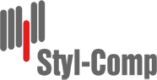 Styl-Comp S.p.A.
Via Stezzano 16
24050 Zanica (BG) Italy
P +39 035 671 013
F +39 035 672 265
infostylcomp@styl-comp.it