Green Building One
PLACE OF CONSTRUCTION:
Vimercate (Milan)
YEAR:
2016
PROJECT MASTER:
C.M.B. S.p.A.
ARCHITECTS:
Studio Garretti
Realization of the facade panels with a very great length (21 M) in a single monolithic piece: there are some solid panels and some double louvered panels.
They all are made of self-cleaning TX Active white concrete.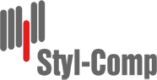 Styl-Comp S.p.A.
Via Stezzano 16
24050 Zanica (BG) Italy
P +39 035 671 013
F +39 035 672 265
infostylcomp@styl-comp.it