ENtreePIC
PLACE OF CONSTRUCTION:
Milan
YEAR:
2014
PROJECT MASTER:
ITC Italcementi Group
ARCHITECTS:
Studio Nemesi & Partners
Installation realized for the project Palazzo Italia – Expo 2015 in collaboration with Nemesi Studio & Partners and Italcementi Group. It's a sculptural composition made of byodinamic concrete that evokes a vegetal system, characterized by a branched texture with cross-sectional branches and variable inclination intertwined on staggered tops by a fragmented design applied to double-curved sculptural artifacts. The particular anthropic-morphic structure is realized with innovative materials and technologies both of production and fixing. They will be the "skin" of Palazzo Italia, characterized by being bifacial.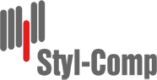 Styl-Comp S.p.A.
Via Stezzano 16
24050 Zanica (BG) Italy
P +39 035 671 013
F +39 035 672 265
infostylcomp@styl-comp.it