Christian Dior Shop Miami
Christian Dior Shop Miami
PLACE OF CONSTRUCTION:
Miami Design District (Florida- US)
YEAR:
2016
PROJECT MASTER:
Christian Dior Couture
ARCHITECTS:
Barbarito Bancel Architects
Ideation, design, customized façades production and on-site assistance for the installation of the panels manufactured with the new biodynamic concrete made by Italcementi Group as requested by the architects Barbarito Bancel and by the Project Master Christian Dior Couture.
Monolithic elements, large format, extra-smooth, with pronounced curves and differentiated radius, overlapping to accommodate the illuminated bodies hiding themselves, underlie this tailoring project. Careful study of production, transport and assembly stages to each panel has characterized this challenge overseas.
In 2016 has won two prizes: one given by the American Concrete Institute and the other one given by the American Architecture Prize.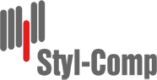 Styl-Comp S.p.A.
Via Stezzano 16
24050 Zanica (BG) Italy
P +39 035 671 013
F +39 035 672 265
infostylcomp@styl-comp.it