Pope John XXIII Church
PLACE OF CONSTRUCTION:
Bergamo
YEAR:
2014
PROJECT MASTER:
Parrocchia S. Giuseppe Bergamo
ARCHITECTS:
Aymeric Zublena (FR) et T+T Architects
The exterior aspect is a white primary cube, dematerialized by vertical lines, which surround the "real" religious space of the building. Creates an external velarium through 16m long panels in which light filters through the alternation of very thin pilasters that represent a technical virtuosity for the difficulty in achieving the slenderness obtained.
Inside there are high cladding walls composed by panels made of concrete, which reproduce the image of the Garden of Eden, thanks to the judicious use of the Graphic Concrete technology. Panels are perforated by a series of circular "windows" placed in irregular positions that allow light to enter the religious space giving lightness and sacredness to the decorated surfaces of the surrounding walls.
The realization was double awarded at the "Surface Design Award" held in London in 2015.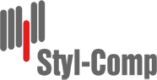 Styl-Comp S.p.A.
Via Stezzano 16
24050 Zanica (BG) Italy
P +39 035 671 013
F +39 035 672 265
infostylcomp@styl-comp.it